Excavation Company in Portland, OR
McKillip Excavation, Inc. is a local excavation company providing commercial excavation and hauling services to developers throughout Portland, OR and surrounding areas.

We've been in the business for nearly two decades as a premier excavation company in Portland, providing commercial excavation services with a penchant for quality, honesty, reliability and timeliness.

All of the work we do is priced competitively. We'll be glad to provide you with a free estimate on services based on the scope of work for your project.

We use a 6-man crew to expedite the excavation process. This allows us to work quickly, without compromising the quality of our results.

We're fully insured and bonded members of the Construction Contractor Board (#126154). We're also a Better Business Bureau (BBB) accredited business.

In addition to excavation, we also offer dump trucks for hire, for the purposes of dirt and rock hauling.
Dependable Excavation, Provided by Experienced Professionals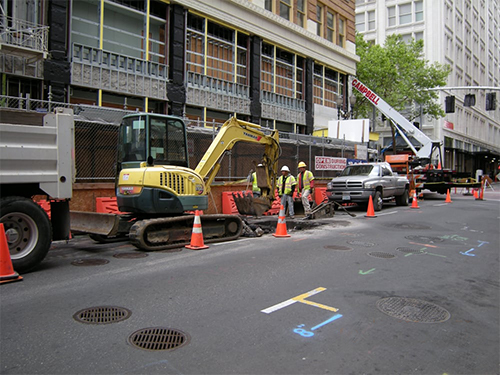 Before any construction project can truly begin, extensive site preparation is required. At McKillip Excavation, Inc., we aim to be the excavation company in Portland, OR you call to get your development started off right. For more than 20 years we've provided a complete scope of excavation and site services, designed to get your project off on the right foot, on-time and within-budget. From general excavation and grading, to underground utility installation, to demolition and more, we deliver it all, with services tailored around your specific jobsite. We're ready to be your all-inclusive provider of site services for projects of all sizes.
Save yourself the trouble of coordinating between an excavator, grading company, haulage services and demolition company in Portland, OR! Instead, make one call to McKillip Excavation, Inc. and let us know what you need. We'll integrate ourselves into the timeline of your project and can provide even more refined oversight into each of these site prep phases. Let us help you determine the right grade for your site, where utilities need to be installed, how to best remove excess dirt and more! We pride ourselves in being more than just a grading company in Portland, OR—we're a partner dedicated to helping you get your development off and running right.
Excavation Experts
Get your project off on the right foot with experienced, qualified excavation work. Contact us today to get a free estimate on your upcoming project.
Proudly providing Excavation and Demolition services to the following areas:
Donald, OR
Aurora, OR
Hubbard, OR
Woodburn, OR
Wilsonville, OR
Saint Paul, OR
Canby, OR
Gervais, OR
Sherwood, OR
Dundee, OR
Newberg, OR
Mount Angel, OR
West Linn, OR
Dayton, OR
Portland, OR
Marion County, OR
Clackamas County, OR
Yamhill County, OR
Washington County, OR
Multnomah County, OR